Notes of ICT Project Management [CT 701]
Project Management Processes
- A process is a series of actions that is performed to acquire some goals.
- Each process is provided with inputs which are analyzed using some standard tools and techniques so as to give desired outputs.
- Project management processes are concerned with describing and organizing the work of the project.
- Project management can be described by a number of inter-linked processes
---
Project Management Process Groups
1. Project Initiation:
- This process involves recognizing and starting a new project.
- The main focus is to select and start project
- The outputs of this process are:
a) Assigning project manager
b) Identifying key stakeholders
c) Completing a business case
d) Completing a project charter with signatures
2. Project Planning
- It consists of processes that perform establishment of scope, defining of objectives, developing project management plan and documenting the project activities.
- It is and iterative process group.
- The main focus is to prepare effective guide for project execution.
- The outputs of this process are as follows:
a) Team contract
b) Scope statement
c) Work breakdown structure
d) Project schedule
e) List of prioritized risks
3. Project Execution
- It consists of processes that is performed to complete the work specified in planning phase satisfying the user requirements.
- It involves proper team collaboration, resource allocation, integration of project activities and so on.
- It is also an iterative process.
4. Project Monitoring and Controlling
- It consists of processes that tracks and organizes the progress and performance of the project activities.
- Project performance is measured at regular intervals and analyze whether the project activities is directing towards the goals.
- It occurs during all phases of project life cycle.
- the outputs include performance reports, requested plan change and updates.
5. Project Closing
- It includes processes to conclude the completion of project.
- Customer acceptance determines this process group.
- The outputs are project archives and final report.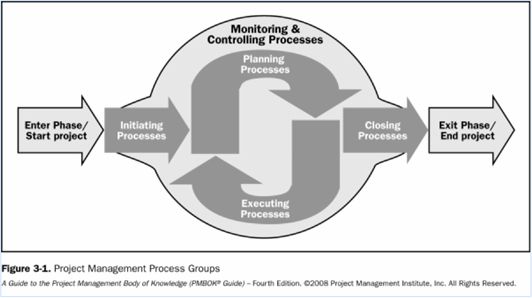 ---
Overlaps of Process Groups in a Phase
- It is possible that all process groups could be conducted within a phase of project life cycle.
- In each phase like concept development, feasibility study, prototype design and so on, all the process groups would be repeated.
- The overlaps is shown in given figure: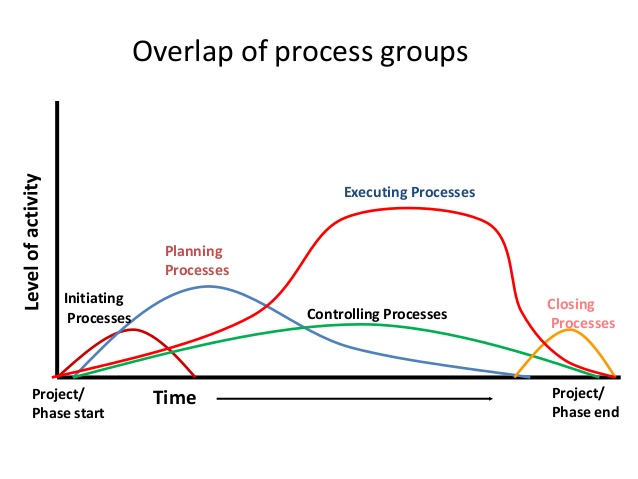 ---
Mapping of Project Management Process Group to Area of Knowledge
- Knowledge areas provide detailed description of the processes.
- The knowledge areas may cross various process groups.
- The mapping of process groups to knowledge areas are shown in given figure: